North Fork Wine Tours TM Long Island Vine Tour
North Fork Long Island Birthday Party Tours & Day Trips


Packages Include: No minimum amount of people, 2 - 200 are welcome!

Round trip transportation from any town in Long Island, Brooklyn, Queens, New York City, Staten Island, North Fork, South Fork, Westchester, New Jersey, Connecticut.

Visit 3 Award Winning North Fork Estate Vineyards, with tastings included. You will spend 5 hrs at the wineries.

Gourmet Box Lunch at one of the wineries (All lunches made the day of the wine tour on the North Fork)

Live music at the wineries when available

Choose from our many different limo party buses, limos, coach buses and SUV's, (depending on the size of your party)

Nominal additional cost for NYC, Westchester, N.J., Staten Island

Prices PP. depend on amount of people

Tolls are not included

Weekends with Accommodations

LONG ISLAND NORTH FORK GIRLFRIENDS BIRTHDAY GETAWAY WEEKEND

Package Includes:

Minimum 8 pp. for overnight packages. We do accept larger groups as well.

2 night accommodations in the Historic Village of Greenport

Round trip transportation to and from the Hotel via limo, limo party bus (depending on the size of your group) for your wine tour.

Visit 3 Award Winning North Fork Estate Vineyards, with tastings included. (3-5 tastings at each Vineyard.) You will spend 5 hours at the wineries.

Live music at the wineries on the weekends.

Gourmet box lunch at one of the wineries (All lunches made the day of the wine tour on the North Fork)

3 course dinner in the Village of Greenport. (All taxes and gratuities included)

*Transportation for your group to Greenport on Friday and return home Sunday is not included. We can arrange transportation for you and your group at an additional cost via Limo or Limo Party Bus.

Pricing starts at $389. p.p. (depending on accommodations) with all taxes included, gratuity for dinner included, the tip for the driver the day of the wine tour is separate.

1 night stay starts at $294.

(**2 night minimum stay FROM MAY 10th THROUGH NOVEMBER 1st**)

Additional pick ups on day wine tour trips are provided for an additional cost.

These are all-inclusive packages. We can also customize a package to fit your needs.
Sunday at the Spa
Complete your wine country weekend at one of the North Fork's finest full service salons/ Experience the commitment to providing services which will delight and nurture you with attention, care, and expertise.We will provide all telephone numbers.
What people are saying...
"Thank you so much for making my 40th birthday celebration so great. The day was perfect! The lunch, wine tastings, and wine-making tours were just terrific. You are so pleasent to deal with. I would definately use North Fork Wine Tours again. Thanks! - Darleen
"Thanks for everything George! I'll definately be back with my soon-to-be husband." - Veronika G.
"We just wanted to say thank you for the fabulous time we had at the wineries. Your tour was so informative and the dinner at your restaurant couldn't have been more delicious! Thank you to you and your son for making Jillian's 30th birthday celebration, and our first trip to a winery, so memorable! Enjoy the picture!" en - N.L.
"I just wanted to Thank You for such a wonderful day on Saturday! It was our very first tour of the wineries and we enjoyed it so much. Your knowledge and service, attentiveness were greatly appreciated, and the dinner was wonderful. There were a couple of winery tour operators that I looked at, but I am glad we choose yours. I'll recommend you to everyone I know and I myself, will definitely be booking with you again this season. Thanks Again!!" - Kim Greenfeild
"Thank You so much for making my birthday a perfect day! My friends and I had so much fun at the Vineyards. I will definitely recommend your company to anyone interested in a wine tour. Thanks Again"- Krystyna
Click here for a full review of a recent North Fork Wine
Tours bachelorette party.
"George did a great job helping to organize my sister's bachelorette party to the North Fork Vineyards." - L.H.
Photos from recent Bachelorette & Birthday Parties!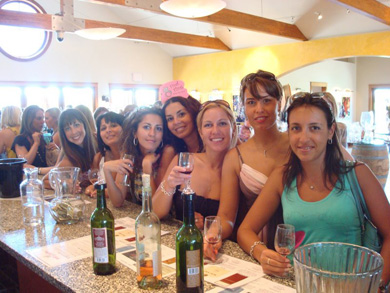 Veronika's Bachelorette Party 8/16/8
Danielle's Bachelorette Party 9/8/7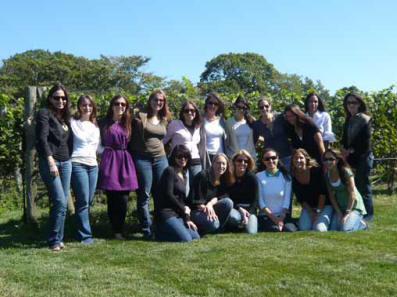 Jodi's Bachelorette Party